Trephine Craniotomy and Cisternal Drainage for Chronic Subdural Haematomas: Preliminary report
Hospital de la Policia Nacional and Hospital Militar , Guayaquil –Ecuador.
E-Mail: fedez95@gye.satnet.net
Summary:
Nine cases of chronic subdural haematoma were operated performing a small trephine craniotomy ,membranectomy and cisternal drainage ,with excellent outcome. We think that this method is especially indicated in haematomas with solid clots ,thick membranes and multiple loculations. This procedure assures rapid decompression and re-expansion of the collapsed brain by re-establishing the CLF circulation on the brain convexity.
Key words : Trephine Craniotomy , membranectomy , cisternal drainage.
Introduction:
Virchow first described in 1857 the chronic subdural haematomas and called it "Paquimeningitis haemorhagica interna",it was considered at that time a fatal disorder.
The principal techniques used in the treatment of chronic subdural hematomas are presently twist drill craniostomy, burr hole craniostomy and craniotomy, .Despite of a dramatic improvement of neuroimaging methods and refinements of operative techniques mortality of up to 13% is still reported in contemporary literature and recurrence rates between 0 to 76% (1)..
The purpose of this paper is to present a new method of surgical treatment of Chronic subdural hematomas (CSDHs) that in our opinion reduces recurrences and provides rapid re-expansion of the brain.
Clinical Materials and Methods:
Patient Population
During the last two years we operated 157 cases of CSHs , in 9 patients we performed trephine craniotomy with cisternal drainage ..There were 7 men and 2 women who ranged in age from 53 to 80 years (mean 66.5 years).
Study Parameters
Inclusion criteria comprised the following: 1) Solid clod found at surgery; 2) Thick membranes; 3) multiple loculations of hematoma demonstrated on CT Scan or MRI.
Exclusion criteria were acute subdural hematomas, liquid clot , single and fine membrane, small subdural hematoma.
All patients underwent assessment using the Rankin daily living scale. The follow up period ranged from 15 to78 months (mean 34.2 months).
Surgical technique:
For temporal and subtemporal base of the brain haematomas we use a "Tic" craniotomy of Drake with a linear incision in front of the tragus . then we performed a total membranectomy and evacuation of haematoma with opening of the cisterna ambiens.
For frontal and fronto-basal haematomas we performed a trephine center in the supraorbital region , like the supraorbital key- hole of Scoville. We then open the chiasmatic cistern after total membranectomy.
For fronto- temporal hematomas we performed a mini-pterional trephine craniotomy with opening of the Silvian fissure.
For parietal haematomas we perform a trephine center in the parietal region eminentia parietalis and open the posterior end of the Sylvian fissure (fig.1).
Illustrative Case:
This 73 year-old man presented with a 15 days history of progressive right side body weakness and aphasia. CT Scan showed a left hemispheric suddural haematoma with thick membrane a multiple loculations (Fig.4). We performed a left supraorbital approach with membranectomy and chiasmatic cysternal drainage (fig.1.2.3). The motor deficit and afasia resolved completely in the early postoperative period. Ten days after the surgery the CT Scan showed complete resolution of the lesion and adequate expansion on the brain (Fig.5-6) .
Results:
Results were excellent in eight patients , good in one patient. This patient complicated with a subdural empiema and was cure with antibiotics an surgical drainage. He was contaminated by the subdural drain probably. Postoperative Computerized tomography obtained 7 days after surgery in all patients demonstrated total evacuation and adequate expansion of the brain.
Discussion:
The CSDH has been recognized as an entity at least since the description recorded by Virchow in 1857. Later Trotter put forward the theory of trauma to the bridging veins as a cause of what he named " subdural haemorrhagic cyst". Since then trauma has been recognised as an important factor in the development of CSDH.
Most of the existing controversy revolves around which technique is optimal for evacuation of a CSDH.
Membranectomy has been effectively dismissed as an essential component of an operative procedure for CSDH (7). Therefore, haematoma itself is the promoter for its chronicity, and removal of haematoma fluid should suffice as the primary goal of surgery. But we think that removal of thick membranes help to reduce rapidly the mass effect on brain and give space to approach the basal cisterns. Weigel reviewed the contemporary literature about chronic subdural haematomas and conclude that: twist drill craniotomy and burr hole craniostomy are the safest procedures. Burr hole craniostomy and craniotomy are the most effective procedures. Drainage reduces the recurrences rate in burr hole craniotomy especially if its position is frontal (8) .Burr hole craniostomy is more effective in treatment recurrence than twist drill craniotomy. Craniotomy should be considered as the treatment of last choice. Craniotomy is still the surgical procedure with the least risk of recurrence (10,11).
Markwalder¨review on CSDH in1981, relegated craniotomy only for the following: 1) Subdural reacumulation;2) Failure of the brain to expand
And 3) removal of solid clot (3).
Reacumulation of the haematoma is the most common postoperative problem. Residual fluid can be detected on computed tomography in as many of 80% of patients, a majority of them asymptomatic and clinically insignificant. Symptomatic recurrence has been noted in 8-37% of postoperative patients. It is more common in the elderly and inadequate expansion of the brain following the evacuation of the haematoma is thought to play a part (5).
We think that trephine and cisternal drainage should be use primarily or as initial procedure when there are thick membranes, multiple membranes and loculations (6), subacute lesions with a preponderance of acute blood are also likely to be best served by trephine craniotomy detected in computed tomography or MRI (9). And when at surgery the surgeon notes that there is insufficient haematoma drain age through a burr hole because of sizable clots encounter on irrigation (2).
Our method provides rapid expansion of the brain because removal of solid clots and thick subdural membranes that press the brain contralateraly , and also by opening the arachnoid cisterns admixture the CSF with residual blood may encourage absorption and re-establish CSF circulation through brain convexity making the brain to expand rapidly ,as seen in our patients. It resembles the expansion of a deflated balloon when someone makes an opening in the balloon wall and rapidly recovers its original shape. This is what we call the balloon effect.(4).
Conclusions : There seems that trephine craniotomy and cisternal drainage give the best clinical and radiologic results in chronic subdural haematomas specially if it is applied primarily in haematomas with solid clots , thick membranes with multiple loculations. It is time for a well designed and adequately sized clinical trial of the treatment of chronic subdural haematoma.
References
Adhiyaman

V,

Asghar

M,

Ganeshram

N,

Bhowmick

BK. Chronic

subdural

haematoma in the

elderly.Postgraduate

Med J. 2002; 78: 71-75.
Dunn LT. Surgery for chronic subdural haematoma: is there an evidence based?. Journal of Neurol neurosurg Psych. 2003; 74 : 842. (editorial commentary)
Hamilton

MG,

Frizzell

JB

,Trammer

BI. Chronic

Subdural

haematoma: The role for Craniotomy Re-evaluated. Technique and Application.

Neurosurg

1993 ;

33:67-72.
Jamieson G. Kenneth, Yelland D.N. John. Surgically treated traumatic subdural hematomas. JNeurosurg 1972; 37:137-149.
Ishiwata

Y, Fujitsu K,

Sekino

T,

Fujino

H,

Kubokura

T,

Tsubone

K,

Kuwabara

T.

Subdural

tension

pneumoencephalus

following surgery for

chonic

subdural

hematoma

.

JNeurosurg

1988; 68: 58-61.
Imaizumi

S,

Onuma

T,

Naganuma

H. Organized chronic

subdural

hematoma

requiring craniotomy. Five cases report.

NeurolMed

Chir

(

Tokyo

)2001

;41 (1) :19-24.
Lee

JY,

Ebel

H,

Ernestus

NI,

Klug

N. Various surgical treatments of chronic

subdural

hematoma

and outcome in172 patients: Is

membranectomy

necessary?

Surg

Neurol ;2004

; 61 : 523-7.
Lind

RP. Lind

CJ ,

Mee

EW. Reduction in the number of repeated operations for the treatment of subacute

and chronic

subdural

hematomas

by placement of

subdural

drains.

Jneurosurg

. 2003; 99: 44-46.
Tanikawa M,

Mase

M ,Yamada K. Surgical treatment of chronic

subdural

hematoma

based on the

intrahematoma

membrane structure on MRI.

Acta

Neurochir

(

Wein

) 2001; 143 (6

) :

613-618.
Tyson G,

Strachan WE,

Newman P, Win HR,

Butler

A,

Jane J. Role of

craniectomy

in the treatment of

chronic

subdural

hematomas

. J

Neurosug ;

1980;52: 776-81.
WeigelR

,

Schmiedek

P,

KraussJK.Outcome

of contemporary surgery for chronic

subdural

haematoma: evidence based review. J

Neurol

Neurosurg

Psychiatry 2003;

74 :

937-943.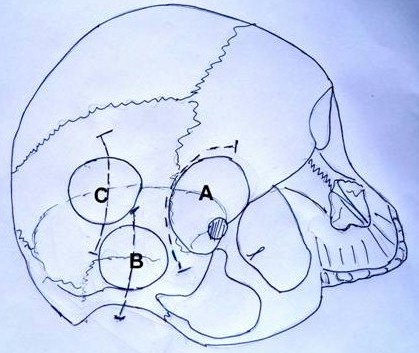 Fig.1: Schematic drawing showing different approaches used in our patients.
A: Mini-pterional approach, B: Subtemporal "Tic" Craniotomy, C: Parietal trephine craniotomy.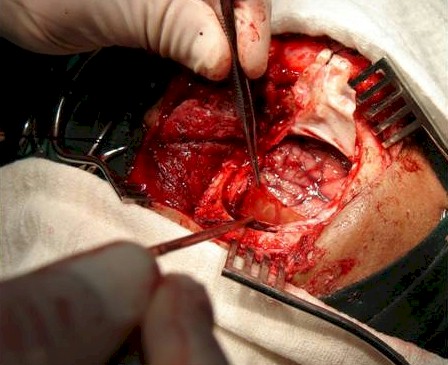 Fig. 2: Trephine mini-pterional craniotomy and membranectomy.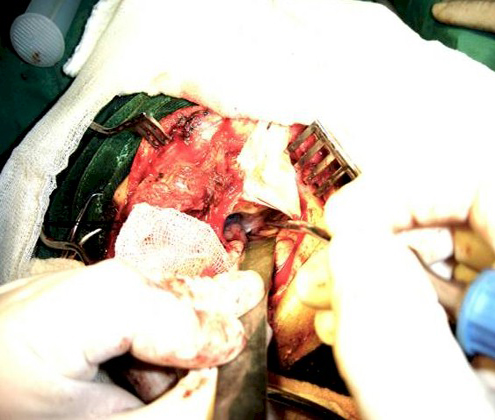 Fig.3 : Subfrontal approach and draining of the left chiasmatic cistern.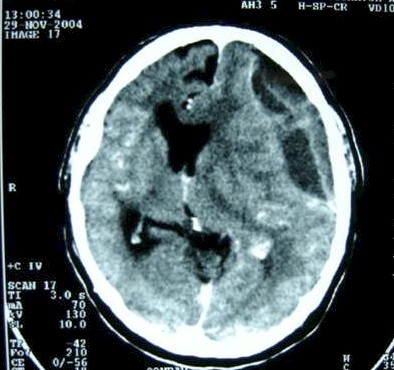 Fig.4 :Preoperative CT scan with thick membranes and multiple loculations.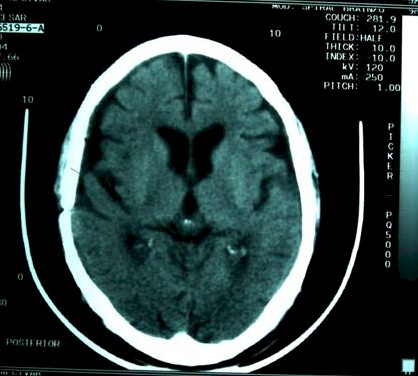 Fig.5: Postoperative CT scan demonstrates complete resolution of the lesion.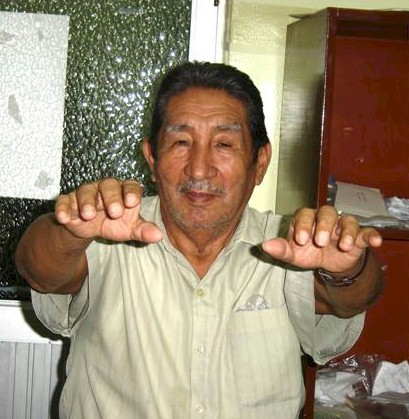 Fig.6 : Patient ten days after the operation.
Dr. BORIS ZURITA CUEVA - Neurocirujano
Dirección:

Hospital Clínica Alcívar. Chimborazo 3310 y Cañar. Torre Médica No. 3. Piso 7 Oficina No. 6
E-mail: fedez95@gye.satnet.net
Teléfonos: (5934) 2446097 2333275 Metro: 2563500 Celular: 099950037
Guayauqil, Ecuador