Double Carotid Artery Aneurysm
Case illustration
_______________________________________________________________
Boris Zurita –Cueva MD, Marcela Solano MD and Jaime Velásquez MD.
Departamento de Neurocirugía Hospital Naval Guayaquil-Ecuador
Key Words · Carotid artery · Double aneurysm · clipping
This 72 year-old woman presented with a sudden onset of severe headache and then loss of consciousness. Computed tomography scanning revealed a subarachnoid haemorrhage (SHA) that appeared pronounced in the right carotid cistern. Angiography demonstrated right double carotid –posterior communicating aneurysms (fig.1). Surgery was preformed on Day 10 post –SHA. The proximal carotid aneurysm was directed to the temporal lobe and appeared reddish and fragile with hemosiderin around it . We thought It was the one that bled. The second aneurysm was of ventral type and was situated before the origin of the anterior choroidal artery. Figure 2 shows an intraoperative view of the lesion with clip application in the proximal aneurysm. The postoperative course was uneventful and the patient remains neurologically normal.
Discussion
The occurrence of multiple aneurysms has been well described in the literature; these lesions represent approximately 20% of all intracranial aneurysms. However, the finding of more than one aneurysm of the same artery is rare (1,2,5,6,7,8,9).
Kojima and Waga reviewed 356 cases of cerebral aneurysms. Of the 59 patients with multiple aneurysms, there were 10 with more than one aneurysms on the same artery. Thus the incidence was 2.8%. The aneurysms arose from the internal carotid artery in seven patients , from the middle cerebral artery in two, and from anterior communicating artery in only one. This entity is so uncommon, only three articles were found in the literature.
We think that in our case the lesion is a complex aneurysm, with the whole carotid artery involved at the posterior communicating segment. That is, a fusiform carotid artery with two saccular dilatations, the proximal one was directed outward and the distal ventrolaterally.
Special care deserves the surgical technique in these lesions, we recommend a large fronto-lateral approach beginning with arachnoidal dissection from the medial to lateral side of the perichiasmatic cisterns, leaving the temporal lobe untouched .Only proximal Sylvian dissection is needed. First the proximal saccular dilatation that was fragile and that seemed that had bled was clipped . The fusiform dilatation with the distal saccular part was wrapped with gauze.
Another possibility could be a fenestrated clip, but we thought this technique was too dangerous because of sudden rupture of the ventrolateral part of the aneurysm or occlusion of the nearby anterior choroidal artery.
Conclusion
Double carotid artery aneurysms are rare, hypertension seems to have an important role in the development of this entity. In this case it was a complex aneurysm with a fusiform and two saccular parts (4).
Angiography frequently does not show the real shape of the aneurysm and only direct observation at surgery can proves it. It is important that surgeon keeps in mind all the probabilities of manouvres available when he or she suspects it preoperatively. We think that direct clipping of the saccular part of the aneurysm plus wrapping of the fusiform dilatation was a safe surgical solution (3).
References
Behari S, Krishna H, Kumar MV,SawlaniV,Phadhke RV,Jain VK..Association between an aplastic basilar artery accompanied by a primitive carotid-vertebrobasilar anastomosis, and multiple aneurysms on the dominant posterior communicating artery J Neurosurg 2004;100: 946-9.
Bendorf G, Naeni RM, and Lehman. Triple carotid aneurysms in a patient with migrane attacks. Journal of Neurol,neurosurg psyq 2004;75: 993.
Cossu M,Pau A, Turtas V, ViolC , VialemG. Subsequent bleeding from rupture intracranial aneurysms treated by wrapping or coating; A review of long term results in 47 cases. Neurosurg . 1993; 32: 344-347.
Inci S, Spetzler RF: Intracranial aneurysms and arterial hypertension : a review and hypotesis. Surg Neurol 2000; 53:530-542.
Inci S, Ozges T: Multiple aneurysms of the anterior communicating artery: radiological and surgical difficulties. J Neurosurg 2005;102: 495-502.
Jefferson A: The significance for diagnosis and for surgical technique of multiple aneurysms of the same internal carotid artery. Acta Neurochir 1978 ;41: 23-37.
Kojima T,Waga S. : More than one aneurysm on the same artery. Surg Neurol 1984;22:403 -408.
Mercado M, De Jesus O. Bilobulated Aneurysms at the origin of posterior communicating artery. P R Health Sci J. 2003; 22 (4) : 405-408.
Sato O, Kanazawa I, Kokunai T, Kobayashi M. Seven intracranial aneurysms of the internal carotid artery. Diagnosis by magnification angioautotomography. Neuroradiology 1978; 15:189-192.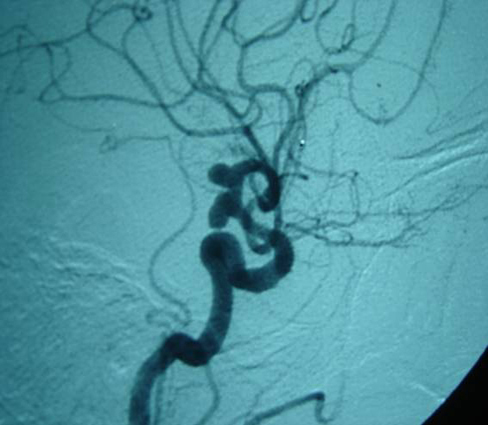 Fig.1: Angiography shows a double carotid aneurysm at the posterior communicating artery segment.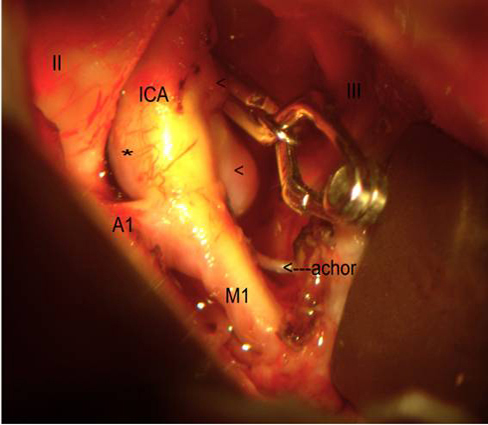 Fig.2: Intraoperative view showing clipping of the proximal sacular part of the aneurysm (<) , the fusiform (*) and distal secular part (<) of the aneurysm. ICA : internal carotid artery. A1: anterior cerebral artery, M1 : middle cerebral artery, achor: Anterior choroidal artery , II : right optic nerve , III : Third cranial nerve.
AUTOR:
Dr. BORIS ZURITA CUEVA - Neurocirujano
Dirección:

Hospital Clínica Alcívar. Chimborazo 3310 y Cañar. Torre Médica No. 3. Piso 7 Oficina No. 6
E-mail: fedez95@gye.satnet.net
Teléfonos: (5934) 2446097 2333275 Metro: 2563500 Celular: 099950037
Guayauqil, Ecuador