Giant Middle Cerebral Artery Aneurysm:
Surgical repair by a mixed remodelling technique.
Boris Zurita –Cueva M.D. and Jaime Velasquez MD.
Hospital de la Policia Nacional
Guayaquil-Ecuador.
e-mail:fedez95@gye.satnet.net
For more technical information go to: www/medicosecuador.com/revecuatneurol
Abstract: The key for treatment of giant intracranial aneurysms is its exclusion from the circulation and restoration of the normal anatomy. This report describes the technique of the middle cerebral artery bifurcation reconstruction using microsuture aneurysmorraphy and clipping.
Key –Words: Giant aneurysm, Middle cerebral artery, aneurysmorrhaphy.
Case report and Surgical Technique:
A 67 year- old right handed woman presented with complaints of headache and fever fifteen days before admission. She was diagnosed of paludism, but during her stance at the hospital she suddenly presented decreased of level of consciousness that evolves to coma.
On admission the patient was comatose , with a score of 10 in Glasgow coma scale, and a right hemiparesis.
Computerized tomography (CT) revealed a 4cm mass in the left insular region with perilesional oedema and subaracnoid haemorrhage at this site.
Cerebral angiography confirmed the presence of a partially trombosed giant aneurysm at the left MCA bifurcation.
The patient's level of consciousness evolves to Glasgow 14 , two weeks after admission , time when we decided to operate.
A right pterional approach was performed ,with extensive drilling of orbitary fissure and anterior clinoid process, in order to give space in front and below de aneurysm and expose de M1 segment of the right middle cerebral artery. The we opened the sylvian fissure in a distal to medial manner. We took care not to close the M1 segment until subpial dissection of the aneurysm was completed. We observed that both M2 segments were incorporated in its wall and originate from the aneurysm dome making impossible the normal clipping procedure of the aneurysm. We tried many times to reconstruct the anatomy of middle cerebral artery with a 20mm clip but the pulse of the dome slipped out the clip. We proceed then to open the aneurysm dome with a Nº11 knife, clipping previously the M1 segment. A microendarterectomy and blood clots evacuation was performed. We proceed with resection of the aneurysm dome and reconstruction with 8-0 micro suture of the parent artery. A small neck rest of the aneurysm was created and this was occluded conventionally with the 20mm clip. All the procedure lasted 30 minutes , with two periods of 15 minutes of temporal clipping, protected with barbiturate and manitol administration . At the end of the reconstruction we observed surprisingly the increased flow and diameter in both M2.
segments.
Posoperative course:
The patient experienced an uneventful postoperative course. The patient´s neurological examination improved slowly ten days after.
The patient returned to her previous activity and now is neurologically intact. The magnetic resonance angiography showed disappearance of the aneurysm and preservation of the vascular anatomy of the region.
Discussion:
Giant intracranial aneurysms, defined as greater than 2.5 cm in diameter, represent about 5 % of all intracranial aneurysms and usually originate from carotid artery.
Middle cerebral artery aneurysms represent 13 % of this group. They produce symptoms exerting mass effect, but some debute with subaracnoid haemorrhage) (5,11). Occasionally, they may present with ischemic symptoms related to distal emboli.
The surgical treatment is a real challenge because the efferent vessels are incorporated at the aneurysm wall.
They have intraluminal clots and their big size make them impossible to clip.
Indirect surgical treatment do not warrant cure and have high degree of complications. Carotid cervical occlusion has a 27 % of ischemic problems (7,9,10,12,13).
Extra-intracranial bypass and clipping the parent artery is another alternative. Unfortunately ischemic complications have been reported even when the vascular bypasses were patent (3,4,6,14,15).
Wrapping the aneurysms dome with muscle or muslin does not exclude a new bleeding episode and distal embolization (7).
Definitive the ideal treatment is aneurysms exclusion of circulation and reconstruction of the normal anatomy of the region (2,16,17).
Sundt reconstructed giant aneurysmatic lesions performing a tromboendarterectomy and clipping (8,18,19).
We have done a variant of this technique :First we performed de endarterectomy ,then we resect part of the aneurysm dome , leaving part of it to form later a new artery by microsuture and a standart clip. This technique avoids the use of booster clips and secures the correct reconstruction of the typical middle cerebral artery anatomy .
This technique is reported like a viable option in the management of difficult giant aneurysms of the MCA. We recommended direct microsurgical approach and reconstruction of this kind of lesion.
References:
1. Benderson J. Spetzler R: Anastomosis of the anterior temporal artery to a secondary trunk of the middle cerebral artery for treatment of a giant M1 segment aneurysm. J Neurosurg 76:863-866,1992.
2. Bojanowsky W, Spetzler RF, Carter LP: Reconstruction of the MCA Bifurcation after excision of a giant aneurysm. J Neurosurg 68: 974-977,1988.
3. Chang HS, Fukushima T, Miyazaki S: Fusiform posterior cerebral artery aneurysms treated with exicision and end to end anastomosis. Case report JNeurosurg. 64 : 501-504, 1986.
4. Diaz FG, Umansky F, Mehta B: Cerebral revascularitation to a main limb of the middle cerebral artery in the sylvian fissure. An alternative approach to conventional anastomosis. JNeurosurg 63: 21-29,1985.
5. DrakeCG: Giant intracraneal aneurysms. Experience with surgical treatment in 174 patients.CLIN Neurosurg 26:12-95,1977.
6. Fuji K ,Fujui M, Nagata S. : Microsurgical procedures for management of giant middle cerebral artery aneurysm causing increased intracranial pressure. Surg neurol: 32:366-71,1989.
7. Fukuoka S, Suematsu K, Nakamura J : Transient ischemic attacks caused by unrupture intracranial aneurysms. Surg Neurol. 17: 464-467,1982.
8. Gelber BR, Sundt TM Jr.: Treatment of intracavernous and giant carotid aneurysms by combined carotid ligation and extra to intracranial bypass. JNeurosurg 52:1-10,1980.
9. Hosobuchi Y: Giant intracranial aneurysms. JNeurosurg.51:743-756,1979.
10. Hosobuchi Y: Giant intracranial aneurysms. In Wilkins R,Rengachary SS: Neurosurgery.New york, Mc Graw-Hill.1985,Vol.2 ,p: 1404-1414.
11. Kraus G, HermanJM,Marciano F, and Spetzler R: Rupture giant aneurysm of an occluded middle cerebral artery in a severe –grade patient: Case report. Neurosurg. 36: 169-172,1995.
12. Pasztor E,Vajdaj, Juhasz J., Coth S, Horvath M.: The surgery of Middle cerebral artery aneurysms. Acta Neurochirg (Wien) 82: 92-101,1986.
13. Peerless S, Drake SJ: Treatment of giant cerebral aneurysms of the anterior circulation. Neurosurg Rev 5: 149-154,1982.
14. Ramina R, Arruda W, Prestes A: Arterial graft reconstruction in an aneurysms of the middle cerebral artery. Neurosurg 26:327-329,1990.
15. Samson DS, Neuwelt EA, Beyer CW: Failure of extra-intracranial bypass in acute middle cerebral artery occlusion: Case report. Neurosurgery 6: 185-188,1980.
16. Spetzler R, Rina HA, Lemole M Jr. : Giant aneurysms. Neurosurg 49 : 902. 2001.
17. Symon L, and Vadja J: Surgical with giant intracranial aneurysms. JNeurosurg 61: 1009-1028,1984.
18. Sundt T, Piepgras DG: Surgical approach to giant intracranial aneurysms . Operative experience with 80 cases. JNeurosurg . 51: 731-742,1979.
19. Sundt T , Piepgras DG: Booster clips for giant and thick based aneurysms. JNeurosurg 60: 157-162, 1984.
Figures:
Fig.1:Angiography shows a giant aneurysm of the left middle cerebral artery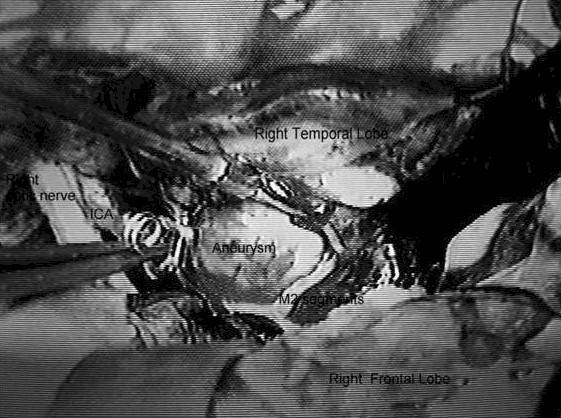 Fig.2: Intraoperative view of the aneurysm. (A transitory clip is in the right M1 segment)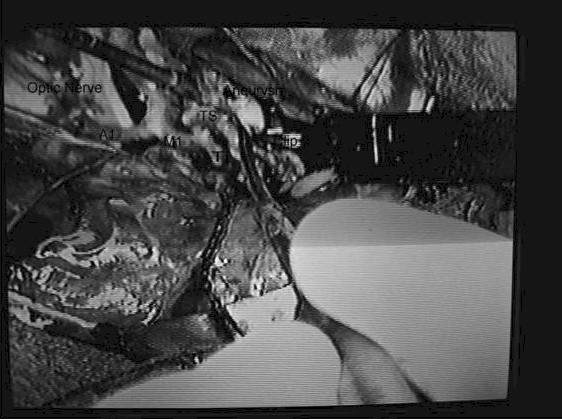 Fig.3 : Complete reconstruction of the middle cerebral artery anatomy. (Observe both M2 segments TS, Ti)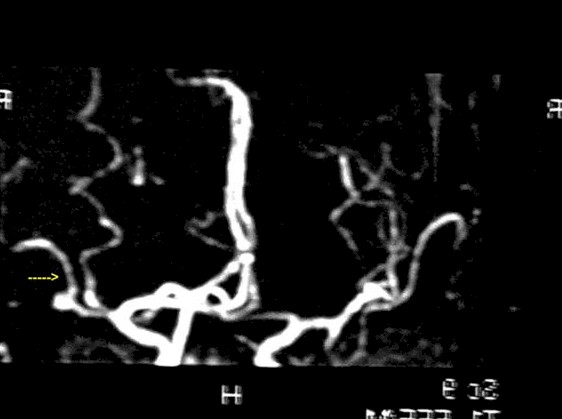 Fig.4 : Posoperative MRI angiography showing patency of both M2 segments and reconstruction of normal anatomy of middle cerebral artery bifurcation (yellow arrow).